Effective November 1, 2021, and in accordance with the Commissioner's order, all filers of securities and franchise exemption notices must complete and submit DFPI's ADA compliant version of the form.
Welcome to the DFPI Self Service Portal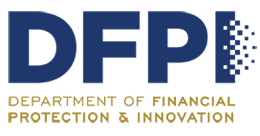 The Department of Financial Protection and Innovation (DFPI) Self-Service Portal offers convenient online services to consumers and companies and individuals seeking to obtain a license from DFPI.
By logging into the DFPI Self Service Portal, you are indicating your agreement to comply with and be bound by the Terms & Conditions of Use of this web site. Please select the link at the bottom of the page to view these provisions.
Licensees, Applicants, Notice Filers

Search Securities and Franchise Filings

Licensee Designated Email Updates

If you are a current DFPI licensee, new applicant, or notice filer, please register an account or sign in with your username.

By registering an account on the Self-Service Portal, you will be able to apply for a license, pay license fees, submit an application, file a notice, and view status updates online.

Listing of filings available on portal: Click Here

Note:The June 2020 changes to searchable documents have been deferred until further notice.

Search for publicly available filing documents and download them instantly

Institutions licensed by the DFPI are required to provide and maintain an email account that is designated for communications with the DFPI, per the Commissioner's Order issued November 22, 2013. The purpose of the Order is to create rapid, direct communication to an email account that your company will monitor daily.

In order to update your designated email address, you must have a DFPI Self-Service Portal Account. If you already have an account, you can sign in above to access the "Designated Emails" portion of your My Account page.

If do not already have an account, you must register for an account by clicking on the Register Now link and completing the registration form.